CAX UAGI USGCH UFGCH GRCH Flinthill's Rum Runner@WMK "Rummy"

UKC: CAX UAGI USGCH UFGCH GRCH Flinthill's Rum Runner@WMK "Rummy"
AKC: Flinthill's Rum Runner @ WMK CM CA
Dam: 'PR' Flinthill's Black Dahlia's Diva (Diva) AHT – C  Sire: Wade's Redneck Rabblerouser (Rowdy) AHT – H
DOB:  April 18, 2005
Rummy was born in Georgia but came to live with us at age 8 weeks. Rummy was our son, Aaron's, Junior Showmanship dog. Aaron trained him and worked hard to establish a wonderful partnership. Rummy earned his UKC conformation Champion title on December 2, 2005 and his Grand Champion title on March 11, 2006. He has numerous Terrier Group placements and Best In Multi-Breed Show and Reserve Best In Multi-Breed Show honors. Rummy ended 2006 as the #4 ranked AHT in Top 10. Rummy went on to take TOP HONORS at Premier, June 2007, moving on to the semi-finals of Top 10! All of this, handled by his boy, Aaron!!
Aaron and Rummy were also a terrific pair in the Junior Showmanship ring. In 2007 and 2008, Aaron and Rum ended the year as the #1 Open Senior in the region. In 2009, they were ranked 7th. They went on to win numerous Junior titles over the years. Rummy took Aaron to the #1 Junior Handler title at Premier when Aaron was only 12 years old!! Way to go Aaron and Rummy!
Rummy came back to the conformation ring in 2014 when AHTs moved into Miscellaneous. Rummy earned his Certificate of Merit at the age of 9 years old, taking several Best in Miscellaneous wins (including a 5 point win) along the way!! He's still a great moving boy, even though he's pretty grey!
Performance Events: Rum tried weight pull, but was NOT a fan. One of the things we pride ourselves in is that we do NOT ask our dogs to do things they don't like. So, Rum does not have a weight pull title. BUT, Rum is a STAR Terrier racer!! He took the terrier race scene by storm and quickly earned his United Flat and Steeple Racer titles. He earned his CH racing titles in 2008 and went on to earn his GRCH racing titles becoming the first 12.5 – 15 inch racer to earn both titles, despite being an "old man" in comparison to his competition! Rummy was ranked #1 in Racing All Stars in both Flat and Steeples for his height division in 2009 and 2010. At Premier in 2010, he took Fastest Overall in Flat Racing! Way to go Rum! In 2011, he was #2 Flat racer and #1 Steeple racer. In 2012, at age 7, he was still one of the fastest racers, placing 2nd behind his grandson in Flat racing and #9 in Steeple racing (with limited races). In 2012, Rummy earned his Lure Coursing Aptitude (CA) title and, more recently in December of 2013, he earned his Coursing Aptitude Excellent (CAX) title. Rum earned an agility title at the age of 8 years. Rum has also gone on to earn his Coursing title in AKC at age 9.
Rummy and his son Iyan were selected for the cover Bloodlines Magazine highlighting their terrier racing skills.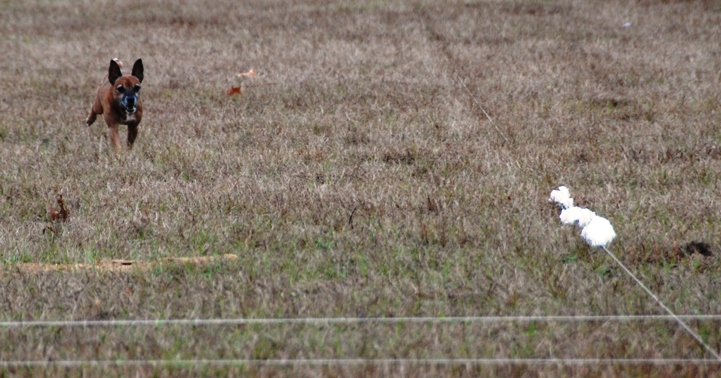 Pups:  After passing his health clearances, Rum was used at stud with:
Litter 1: CH 'PR' Wudnshu's Kendall McKidd as a favor for Teri Murphy. There were 5 pups. 3 went into loving pet homes. Two of these girls went on to earn their Champion conformation titles. I don't have a lot of information about these babies as they were whelped, raised and placed by Teri.
Litter 2: Our girl Saryn, GRCH 'PR' WMK's That's That For That. They had 5 pups on December 12, 2006 (3 hairless, 2 coated). Two of the pups (PS and Dytto) went straight to pet homes and were spoiled rotten! The other 3 participated in conformation and performance events. RJay is a conformation CH with legs towards his GRCH title (not exhibited often). Aryck stayed with us, earned his GRCH title in 2007 and then was altered and went to live with Ryan's sister where he is loved dearly. Iyan lived with June and Walt Pasko, earning his USGCH UFGCH and GRCH titles. Iyan was a multi-year Top 10 and All Stars participant. Iyan passed away on 10/12/12 due to complications from an injury. He is missed terribly.
Litter 3: Rum was bred to CH WMK's Tagnon's Turnover (Sofie). They had 4 pups in 2008 (1 coated, 3 hairless). The 3 hairless babies went off to their pet homes and are spoiled rotten. The coated baby, Fyji, stayed with us. Fyji has gone on to earn her  CAX UFGCH USGCH and GRCH titles.
Litter 4: Rum was bred to GRCH WYSIWYG's Gypsy Spirit (Gypsy). They had 7 pups (2 hairless, 5 coated). ALL 7 pups went on to earn GRCH titles in conformation!!! They also have titles in Terrier Racing, Weight Pull, Dock Jumping and Lure Coursing. These babies are amazing! BIG thanks to all of their owners for getting them out there and doing so much with them! See our litter statistics page for their amazing accomplishments!
Litter 5: Rum was bred to CA USCH UFGCH GRCH WMK's That New Journey (Journey). They had 7 beautiful babies  (3 hairless, 4 coated) in November 2012. 2 of these babies made their way to Finland. 2 of the pups stayed with us. The remaining babies are in show/breed/performance homes. To date, 5 of the 5 in the US are GRCH (3 of the 4 earned this title prior to their first birthday). 3 of the 5 pups earned their CA titles just after their 1st bday! 2 of the pups have already earned terrier racing titles too! They are on their way to being stars!!!
As of December 2014, Rummy remains an amazing, beautiful moving boy who has a strong heart and is a great baby sitter…he loves all puppies! He is really getting grey, though. I guess at 9 1/2 years, he deserves it!!