CAX USCH UFGCH GRCH WMK's That New Journey "Journey"


UKC: CAX USCH UFGCH GRCH WMK's That New Journey "Journey"
AKC: GCH WMK's That New Journey CA CM
Dam: GRCH WMK's That's That For That (Saryn)
Sire: GRCH Desert Highs Light of Eternity (Prince)
June 29, 2008 – August 25, 2021
Journey was born at our home and is one of our FOREVER family members. In her litter, she was the first of the girls to earn her GRCH title in UKC. Journey earned her first Best In Show title in Lakeland, FL in May 2009 at the Sunshine Terrier event. She took BIMBS on 10/24/09 and 10/25/09 in Tampa, FL at the APBT Showdogs of FL event. As her show career continued, Journey earned quite a few additional BIMBS and RBIMBS honors. Journey ended both the 2009 and 2010 show years in the #1 spot in Top 10! In 2011, Journey was not shown as often, but still made the #8 spot in Top 10. In 2012, Journey went into the show ring b/c she liked it but we knew she wouldn't make into the top ranks. But it is fun to show her. Despite having puppies just 2 months before 2013, Journey made it to the #3 spot in Top 10!!  Way to go Journey!!
AKC Conformation: Journey became the first coated bitch to earn a Certificate of Merit (CM) in AKC conformation in 2014!  We were very proud of Journey!!
1/9/2016: Journey earned a 5 point major at her first AKC show on 19/2016. Journey was the first coated AHT bitch to earn a major and the first coated AHT to earn a 5 point major.  Journey and Karyn went on to win Group 4 in the Bred By Exhibitor Group (also a first)!!
1/16/2016: FIRST Coated AHT bitch and FIRST Bred By and Owner Handled AHT to achieve an AKC Championship.
Journey was also the FIRST AKC Grand Champion for our breed!
She was an amazing girl who we loved with all of our hearts. Her life was too short as mammary cancer took her from us, despite surgery, etc. to save her life. We will always remember our "Journ-Journ."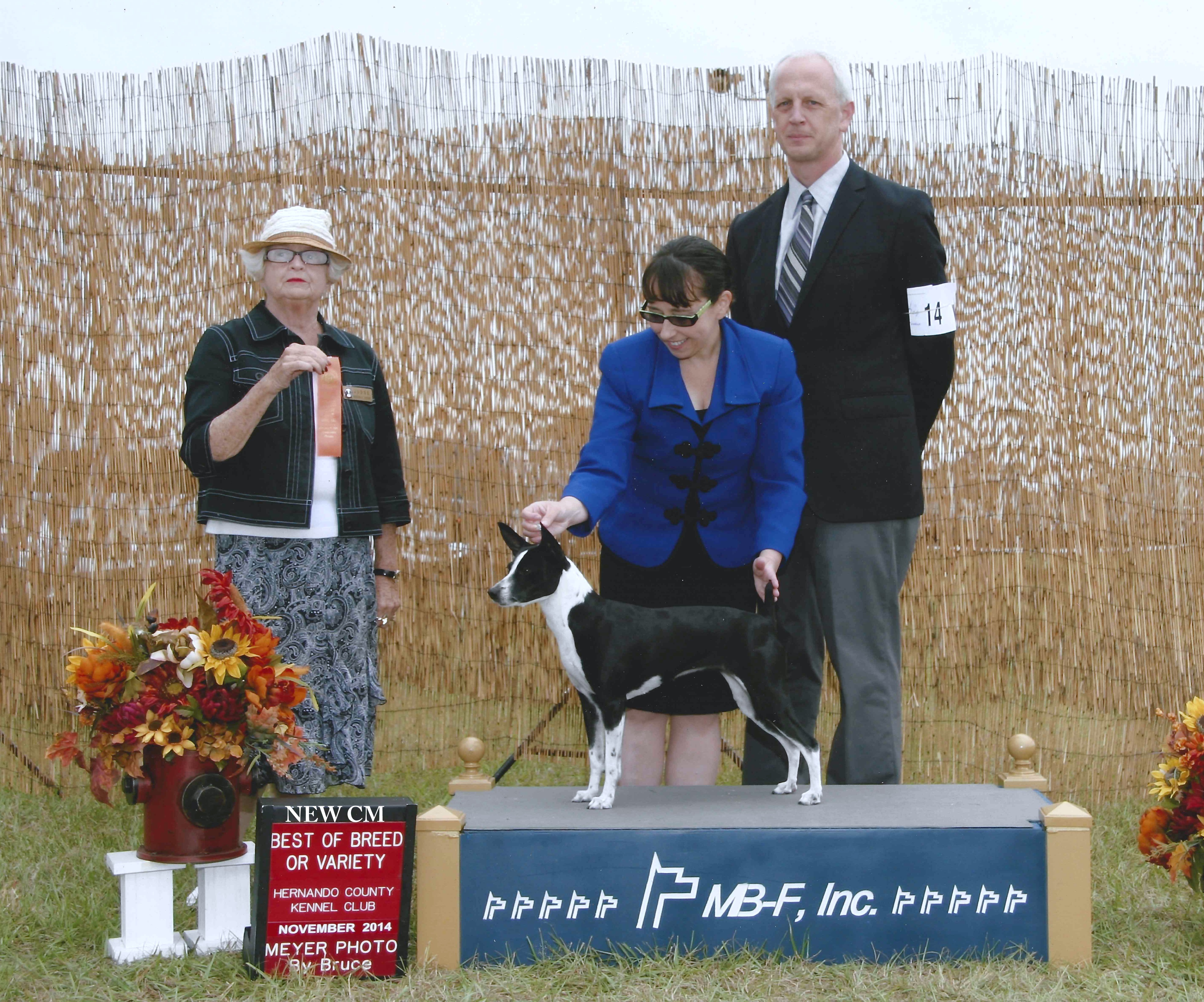 Terrier Racing: Journey is a flat racing star in the over 15 height division. She has her Grand Champion Flat Racing title. Journey took one tumble (long ago) in steeple racing and is now very cautious and jumps much higher than necessary. As such, she isn't often on top of the steeples, but she can pull it out when she wants to! She is a steeple Champion.
Lure Coursing: Journey has earned her Coursing Aptitude Excellence title!
Pups:  Journey passed all health clearances at age 2 but was not bred until she was 4 years old. Journey was bred to CA USGCH UFGCH GRCH Flinthill's Rum Runner @ WMK (Rummy). They had 7 pups on November 26, 2012 (3 hairless, 4 coated (3 carriers)). Visit our Litter Statistics page to see how these babies grew out! Both Journey and Rummy have incredible temperaments and are wonderful family "pets" in addition to all of the incredible conformation and performance accomplishments. We are looking for more of the same from these wee beasties!
Journey was bred to Perry and they had 9 beautiful babies in Feb 2015 (1 coated, 8 hairless). We are IN LOVE with these babies. They have really exceeded our expectations!!!  For details, see our "most recent litter" page!